The smell of Rain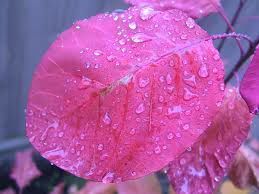 The bible is consisted of allegories, enigmas and parables. That's why with the crowd, Jesus Christ uses parables to speak about the kingdom of heaven. Matthew 13:10-11 " The disciple's came , and said unto him, why speak est thou to them in parables? Jesus answered them, because that you have been to know the mysteries of the kingdom of heaven, but to them it has not been given. This is why I speak to them in parables, because seeing they see not, and hearing they hear not, neither do they understand." Those whose were given to know the mysteries of God is the church which is the fusion of Nation peoples and some Israel people who believe in Jesus Christ. The church has received the light, whose is Jesus Christ as the Book of John 8:12 saying " When Jesus spoke again to the people, he said, " I am the light of the world. Whoever follows me will never walk in darkness, but will have the light of life." In other word light represents revelation. Isaiah 8:20 " To the law and to the testimony; if you do not speak well, there is no light in them." Listen what Matthew 13:52 saying " So I replied, " this means, then, that every teacher of the Law who becomes a disciple in the kingdom of heaven is like a homeowner who takes new and old things out of his storage room."
Interpretation helps for better understanding of the things. Therefore, the key to open the heaven door is to get the revelation through the scriptures.
Galatians 4:24:26 "Those things can be taken as examples. The two women stand for two covenants. One covenant comes from the Mount Sinai. It gives birth to children who are going to be slaves. It is Hagar. Hagar stand for Mount Sinai in Arabia. She stands for the present city of Jerusalem. That's because she and her children are slaves. But the Jerusalem that is above is free. She is our mother."
We recall that two mountains are two peoples who are Israel and Church [Nations]..
They both represents also two covenants which is Leviticus[Israel] and Royal[church]....
In Leviticus covenant Aaron was a high priest, but in Royal we have Jesus Christ. Hebrews 9:11 " But Christ came as a chief priest of the good things that are now here. Christ went through a better, more perfect tent that was not made by human hands and that is not part of this created world."
Two mountains represents also Moses law and GRACE....
We get some recommendation from brother Peter 2 Peter 1:19-21
" and we have the prophetic word more full confirmed , to which you will do well to pay attention as to a lamp shining in a dark place , until the day dawns and the morning star rise in your hearts . Knowing this first of all , that no prophecy of scripture comes from someone's own interpretation . For no prophecy was ever produce by the will of man , but men spoke from God as they were caries along by the holly spirit."
Brother Peter emphasized the importance to pay more attention to the prophetic word which is a lamp shining for better understanding. The knowledge of prophetic word increase maturity in the church. That's why the church is called to have the explanation of the scriptures as Delilah has gotten with Samson .
Deuteronomy11:10-12 " The land you are entering to take over is not like the land of Egypt, from which you have come, where you planted your seed and irrigated it by foot as in a vegetable garden. 11 But the land you are crossing the Jordan to take possession of is a land of mountains and valleys that drinks rain from heaven. 12 It is a land the Lord your God cares for; the eyes of the Lord your God are continually on it from the beginning of the year to its end.So if you faithfully obey the commands I am giving you today—to love the Lord your God and to serve him with all your heart and with all your soul— 14 then I will send rain on your land in its season, both autumn and spring rains, so that you may gather in your grain, new wine and olive oil. 15 I will provide grass in the fields for your cattle, and you will eat and be satisfied.
Remark something, there is difference between Egypt land and land of Canaan. In Canaan, the rain is provided by God instead of irrigate. The land who get rain form heaven is Jacob. He is also the shadow of Jesus Christ.
Genesis27:1-13 " When Isaac was old and his eyes were so weak that he could no longer see, he called for Esau his older son and said to him, "My son."
"Here I am," he answered.
2 Isaac said, "I am now an old man and don't know the day of my death. 3 Now then, get your equipment—your quiver and bow—and go out to the open country to hunt some wild game for me. 4 Prepare me the kind of tasty food I like and bring it to me to eat, so that I may give you my blessing before I die."
5 Now Rebekah was listening as Isaac spoke to his son Esau. When Esau left for the open country to hunt game and bring it back, 6 Rebekah said to her son Jacob, "Look, I overheard your father say to your brother Esau, 7 'Bring me some game and prepare me some tasty food to eat, so that I may give you my blessing in the presence of the Lord before I die.' 8 Now, my son, listen carefully and do what I tell you: 9 Go out to the flock and bring me two choice young goats, so I can prepare some tasty food for your father, just the way he likes it. 10 Then take it to your father to eat, so that he may give you his blessing before he dies."
11 Jacob said to Rebekah his mother, "But my brother Esau is a hairy man while I have smooth skin. 12 What if my father touches me? I would appear to be tricking him and would bring down a curse on myself rather than a blessing."
13 His mother said to him, "My son, let the curse fall on me. Just do what I say; go and get them for me.So he went and got them and brought them to his mother, and she prepared some tasty food, just the way his father liked it. 15 Then Rebekah took the best clothes of Esau her older son, which she had in the house, and put them on her younger son Jacob. 16 She also covered his hands and the smooth part of his neck with the goatskins. 17 Then she handed to her son Jacob the tasty food and the bread she had made.
18 He went to his father and said, "My father."
"Yes, my son," he answered. "Who is it?"
19 Jacob said to his father, "I am Esau your firstborn. I have done as you told me. Please sit up and eat some of my game, so that you may give me your blessing."
20 Isaac asked his son, "How did you find it so quickly, my son?"
"The Lord your God gave me success," he replied.
21 Then Isaac said to Jacob, "Come near so I can touch you, my son, to know whether you really are my son Esau or not."
22 Jacob went close to his father Isaac, who touched him and said, "The voice is the voice of Jacob, but the hands are the hands of Esau." 23 He did not recognize him, for his hands were hairy like those of his brother Esau; so he proceeded to bless him. 24 "Are you really my son Esau?" he asked.
"I am," he replied.
25 Then he said, "My son, bring me some of your game to eat, so that I may give you my blessing."
Jacob brought it to him and he ate; and he brought some wine and he drank. 26 Then his father Isaac said to him, "Come here, my son, and kiss me."
27 So he went to him and kissed him. When Isaac caught the smell of his clothes, he blessed him and said,
"Ah, the smell of my son is like the smell of a field that the Lord has blessed. 28 May God give you heaven's dew and earth's richness— an abundance of grain and new wine. 29 May nations serve you and peoples bow down to you. Be lord over your brothers, and may the sons of your mother bow down to you. May those who curse you be cursed and those who bless you be blessed."
Here are the interpretation; Isaac old with weak eye represent God in grace time who come out to blessed his son[Jacob=Jesus Christ]. Daniel7:22" until the Ancient of Days came and pronounced judgment in favor of the holy people of the Most High, and the time came when they possessed the kingdom." Isaac eye weak means Grace time. 1Corinthians13:7" Love is patient, love is kind. It does not envy, it does not boast, it is not proud. 5 It does not dishonor others, it is not self-seeking, it is not easily angered, it keeps no record of wrongs. 6 Love does not delight in evil but rejoices with the truth. 7 It always protects, always trusts, always hopes, always perseveres.
Two good young goats represents two alliances in the bible or still the Law and the grace. It represents also Jesus Christ as the offering which God approved for two peoples. This peoples are the Church [Nations] and Israel. Ephesians2:11-18 " Therefore, remember that formerly you who are Gentiles by birth and called "uncircumcised" by those who call themselves "the circumcision" (which is done in the body by human hands)— 12 remember that at that time you were separate from Christ, excluded from citizenship in Israel and foreigners to the covenants of the promise, without hope and without God in the world. 13 But now in Christ Jesus you who once were far away have been brought near by the blood of Christ.
14 For he himself is our peace, who has made the two groups one and has destroyed the barrier, the dividing wall of hostility, 15 by setting aside in his flesh the law with its commands and regulations. His purpose was to create in himself one new humanity out of the two, thus making peace, 16 and in one body to reconcile both of them to God through the cross, by which he put to death their hostility. 17 He came and preached peace to you who were far away and peace to those who were near. 18 For through him we both have access to the Father by one Spirit.
That's why Isaiah 8:20 said " A the law and the testimony; If we do not so speak, there will be no dawn for the people." We recall that dawn represents Jesus Christ who is the chandelier which shining in the church. But to get dawn, we ought to mixed the Moses law with Grace. That's the reason Jacob dressed up with the clothes of Esau and covered his hand, neck with the skin of a young goats given by his mother .
Esau's clothes represents the magnificence of the sky that means eternity. That's why Isaac would say"When Isaac caught the smell of his clothes, he blessed him and said,
"Ah, the smell of my son is like the smell of a field that the Lord has blessed. 28 May God give you heaven's dew and earth's richness— an abundance of grain and new wine.
The skin of the young goats represents the lamb of God whom the prophet John saw. John 1:29 " John saw Jesus coming toward him the next day and said," Look; this is the lamb of God who takes away the sin of the world." He also represents the first born.
We understood that the foundation of the church is the Apostle and the Prophets. Ephesians2:20 "Apostles and prophets are the foundation on which you were built, and the chief corner-stone of it is Jesus Christ himself." Therefore to enter in God's rest require two rain according to Deuteronomy11:14"then I will send rain on your land in its season, both autumn and spring rains, so that you may gather in your grain, new wine and olive oil. 15 I will provide grass in the fields for your cattle, and you will eat and be satisfied.