Parable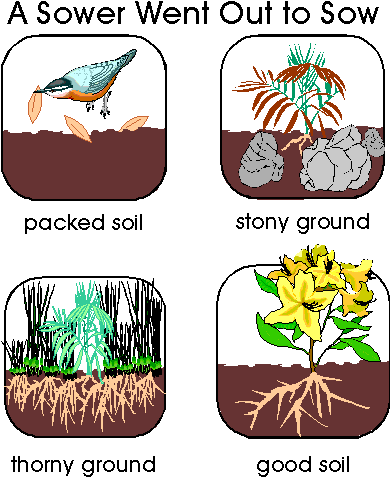 "But a few seeds did fall on good ground where the plants produced a hundred or sixty or thirty times as much as was scattered." Matthew 13:8
We're going to be more specific, clear and net to help God's people to get divine understanding. But before explaining the parable and get the meaning of hundred, sixty and thirty, let's read some scriptures Psalms 78:2 "I will speak to you in parables and explain mysteries from days of old." God of Israel is a God who hides; as the bible say in Isaiah 45:15 "Certainly, you are a God who has hidden himself. You are the God of Israel, the savior." That's why He used the allegories, the parables and the riddles to hide his wisdom. But he explain the secret of the kingdom of the heaven to the elect, that means the people God choose in advance.1Peter2:9" But you are a chosen people, a royal priesthood, a holy nation, God's special possession, that you may declare the praises of him who called you out of darkness into his wonderful light."
Listen what Jesus said to disciple; "Then the disciple came and asked" why are you speaking to them in parables? He answered, Because it has been given to you to know the secrets of the kingdom of the heaven, but it has not been given to them."
The Lord has helped us to understand the explanation of the first three parts but He kept secret of the fourth field. We will explain the fourth field by his grace.
Here is the explanation of the parable. Hundred is the number of the accomplishment. In other words, hundred represents Abraham's age. Genesis 21:5 "Abraham was a hundred years old when his son Isaac was born to him." That's why one hundred hides the mystery of the redemption that is encrypted by a figure that has been thoroughly taken from the ten commandment of Moses. The number one is the greatest commandment in the law; which is love. Love in prophecy is to know the secret of Samson's strength.
But you will notice that Samson [Jesus Christ] reveals his secret to Delilah [church] at fourth time. " Delilah said to Samson, how can you say that you love me when your heart isn't mine? You've made fun of me three times. now, but you still haven't told me what makes you so strong. Every day she made his life miserable with her questions. She pestered him until he wished he were dead. Finally, he told here the truth. He told here," because I'am a Nazirite, no one has ever cut the hair on my head. I was dedicated to God before I was born. If my hair is ever shave off, my strength will leave me. Then I will be like any other man." Judges 16:15-17
We understood that revelation is God's love upon us. Because Samson showed his love to Delilah by revealing his secret to her. We also say that the revelation is to know God in His Greatness, width, height and depth. "This way, with all of God's people you will be able to understand how wide, long, high, and deep his love is. You will know Christ's love, goes far beyond any knowledge. Ephesians 3:18-19
Without that it is impossible to enter God's rest. " without prophetic vision people run wild, but blessed are those who follow God's teachings." Proverbs 29:18
We recall that only the everlasting gospel sanctifies and prepare us for removal."Then I saw another angel flying in the midair, and he had the eternal gospel to proclaim to those who live on the earth- to every nation, tribe, language and people."Revelation 14:6. But in the city we listen more the doctrine of Balaam, which is based on the financial and material prosperity. "Nevertheless, I have a few things against you: the are some among you who hold to the teaching of Balaam. who taught Balak to entice the Israelite to sin so that they ate food sacrificed to idols and committed sexual immorality. Revelation 2:14
What does number sixty mean? the sixth day of creation. Genesis 1:27,31 "So God created humans in his image. In the image of God he created them. He created them male and female. And God saw everything that he had made and that it was very good. There was evening, then morning-the sixty day. As six represents Man in prophecy. In the shadow we see Isaac, because he had twin at the age of sixty years old. We understood that God has work in Isaac as a minister until he become ready to conceive the twins. In fact the work of God was to transform Isaac to Jesus Christ. Ephesians4:11-13 " So Christ himself gave the apostles, the prophets, the evangelists, the pastors and teachers, 12 to equip his people for works of service, so that the body of Christ may be built up 13 until we all reach unity in the faith and in the knowledge of the Son of God and become mature, attaining to the whole measure of the fullness of Christ. "Isaac was 60 years old when they were born." Geneses 25:26 But in reality the real Man is the Lord Jesus Christ." Jesus went outside. He was wearing the crown of thorns and the purple cape. Pilate said to the Jews,"Look here's the Man." John 19:5
In the prophecy thirty year old is the maximum age to go to war in Israel as Moses recommend to Jew peoples. Thirty year old is also the age that Jesus begun to spread the gospel in Israel. Thirty year old represent also maturity. Therefore to reach maturity the Lord donated in the church. "He also gave apostles, prophets, missionaries, as well as pastors and teachers as gifts to is church. Their purpose is to prepare God's people to serve and to build up the body of Christ. This is continue until all of us are united in our faith and in our knowledge about God's Son, until we become mature, until we measure up to Christ, who is the standard.
Then we will no longer be little children tossed and carried about by all kinds of teachings that change like wind. We will no longer be influenced by people who use cunning and clever strategies to lead us astray." Ephesians 4:11-14
What we can hold in this parable is 100 represents Faith; because Abraham believed God, and it was credited to Him as a righteousness. Galatians 3.6
And 60 represents Hope; because Isaac is the result of the faith of Abraham."As scripture says: "I have made you a father of many nations." Abraham believes when he stood in the presence of God who gives life to dead people and calls into existence things that don't even exist. When there was nothing left to hope for, Abraham still hoped and believe. As result, he became a father of many nations, as he had been told: that is how many descendants you will have." Romans 4:17-18
30 represents Love, for it is Man Jesus Christ. " God is love, and anyone who doesn't love others has never known him."1 John 4:8
Finally let's read what Paul saying in 1 Corinthians 13:13 "So these three things remain: Faith, Hope and Love. But the best one of these is Love.
The field which produces 100,60,30 represent the mature church which going to participate in first removal, during the appearance of Jesus Christ in the sky. "For the Lord himself shall descend from heaven with a shout, and with the voice of archangel, and with the trumpet of God: and the dead in Christ shall rise first. Then shall we which live and remain, be caught up with them also in the clouds, to meet the Lord in the air: and so shall we ever be with the Lord. Wherefore, comfort yourselves one another with these words." 1 Thessalonians 4:16-18
Praise the Lord